Ever since Rick and Morty creators Dan Harmon and Justin Roiland appeared on the ETC Podcast over the summer and hinted that they would be interested in an RPG video game for the show, a Rick and Morty RPG is all we can think about.
Harmon told Roiland: "I wanted to pitch you – season 3, if we were to do season 3, the one complicated episode I'd want to do is somehow we come up with a sci-fi reason why they actually go into a Bethesda-style RPG. . . and actually render them as … real time rendered 3D."
Roiland responded, "If someone at Ultimum calls us and says 'let's publish a game, for real' — let's do it!"
Then Harmon brought up the idea of creating a Rick and Morty game with almost unlimited dimensions. "I would like to see a marriage between Minecraft as the lo-fi thing in exchange for this amazing — the creation of the world as you walk into it. Blending that technology," he suggested. "You have a portal gun and you can shoot it — you can go to really specific dimensions but you can also just go to random ones that are put together."
Part Bethesda-style RPG, part Minecraft, all Rick and Morty? I think I'm going to faint…
While there are no concrete plans to make a Rick and Morty RPG as of right now, here are the 5 things a Rick and Morty RPG game needs to have. We know that Justin Roiland is busy with new a TV pilot of FOX and a new VR game and that Rick and Morty won't be back until March 2017 at the earliest, but we can still dream, can't we?
1. A crafting system
Crafting systems are all the rage in video games right now, every new title has some kind of crafting system shoehorned into it. In a Rick and Morty RPG, a crafting system would make perfect sense. Gathering materials from all sorts of different dimensions to allow Rick to bring dangerous new inventions to life from his alcoholic, sociopathic brain would make the game endlessly fun. Especially if they blew up in the player's faces.
2. "X Gon Give It To Ya"
The licensed music in Rick and Morty usually only falls into two genres: indie rock and aggressive rap anthems. The most memorable of the latter comes from the ending of "Something Ricked This Way Comes" where Rick and Summer pump iron to DMX's "X Gon Give it to Ya" so that they can go beat the crap out of Satan (and later a neo-Nazi, a schoolyard bully and a Westboro Baptist church member as seen in the 20-minute supercut above). Licensing this song again–or perhaps an instrumental version–for a Ricky and Morty RPG to play whenever you're beating the crap out of people would be lovely nod to diehard fans of the show while serving as the ultimate hype song for in-game combat.
3. Butter-Passing Robot
If a Rick and Morty RPG were to include a Navi-like companion to follow you around and contribute absolutely nothing, we'd prefer it if it was Butter-Passing Robot. "What is my purpose?" has a better ring to it than, "HEY! LISTEN!"
4. Blips and Chitz
A Rick and Morty RPG would likely include millions (or at least hundreds) of fully explorable universes, but it would be all for nought if they didn't include Blips and Chitz loaded with playable mini-games. It's only the coolest place in the world! Let us play a Roy 2 mini game!
5. It's own rules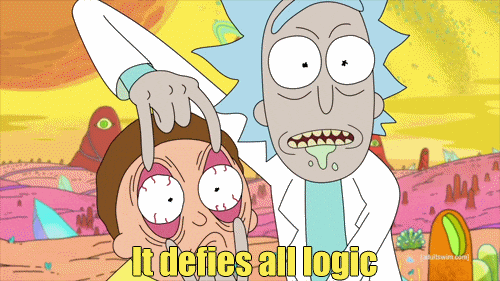 The reason Rick and Morty is the best thing on TV is because of the way it acknowledges usual TV storytelling rules but is structured in a way where anything is possible. Video game adaptations of popular TV shows often get too wrapped up in fan-service. Harmond and Roiland rarely indulge in this and it would be important for a Rick and Morty RPG to explore totally new universes, introduce new characters and play by its own rules. Thankfully, an unlimited amount of crazy other worlds to explore would allow Harmond, Roiland and the devs to do whatever the hell they want, which in Harmond and Roiland's case, usually translates to comedy gold.
What would you like to see in a Rick and Morty RPG? Let us know in the comments!