Since last year, Nintendo has been focused on branching out into mobile gaming. Yesterday at Apple's conference, Nintendo's Shigeru Miyamoto made a surprise appearance to announce Super Mario Run, an iOS runner that finally puts their iconic character on mobile devices.
The new mobile Mario game will be free to download with a set purchase price and Nintendo says it's "coming soon" to the App Store. It'll be out by this holiday season, they say.
Unfortunately for Nintendo diehards with Androids, you'll have to wait a little bit before you get to play Super Mario Run. Nintendo told Kotaku, "We do intend to release the game on Android devices at some point in the future."
Here's the full video presentation from Apple's conference courtesy of Kotaku:
Here's the full description from the App Store: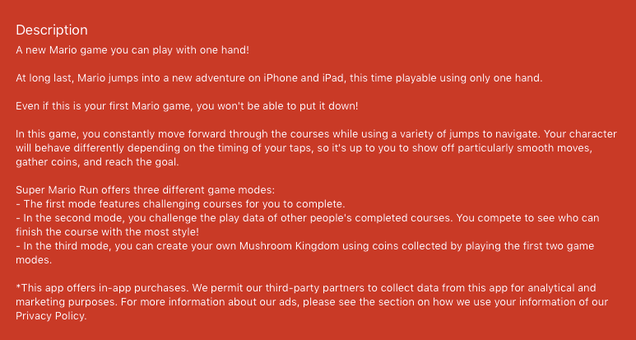 Based on the promotional material, Mario's mobile gaming debut seems awfully promising. However, as per usual, we'll be reserving judgement until we get the opportunity to play it ourselves.
What do you think of Nintendo's second foray into mobile gaming?